September 11,2001 Time Line
6:02 a.m.: Mohammed Atta flies Colgan Air from Portland International Jetport, Portland, Maine to Logan International Airport, Boston, Massachusetts, along with Abdulaziz al-Omari.
6:52 a.m.: Marwan al-Shehhi, the hijacker of Flight 175, calls Atta from another terminal at Logan to confirm that the attacks are on.

7:35 a.m.: Atta and al-Omari board American Airlines Flight 11.

7:39 a.m.: The rest of the American Airlines Flight 11 hijackers board the plane.

7:59 a.m.: American Airlines Flight 11, a Boeing 767, departs late from Logan International Airport bound for Los Angeles, California. Five hijackers are aboard.

8:13 a.m.: The last radio communication is made from Flight 11. A recording of what is believed to be Atta's voice says, "Nobody move. Everything will be OK. If you try to make any moves, you'll endanger yourself and the airplane. Just stay quiet." The flight path begins to stray away from the scheduled one and moves southwards.

8:14 a.m.: United Airlines Flight 175, another fully-fueled Boeing 767, carrying 56 passengers and nine crew members, departs from Boston Logan airport, also bound for Los Angeles. Five hijackers are aboard.

8:19 a.m.: Betty Ong, a flight attendant on Flight 11 alerts American Airlines of a hijacking in progress via an airphone.
8:20 a.m.: The Federal Aviation Administration's Boston Center flight controllers decide that Flight 11 has probably been hijacked. American Airlines Flight 77, a Boeing 757 with 58 passengers and six crew, departs from Washington Dulles International Airport in Fairfax and Loudoun Counties, Virginia, for Los Angeles. Five hijackers are aboard.

8:21 a.m. Flight 11's transponder signal is turned off but the plane remains on radar screens.

8:24 a.m. Flight 11 makes a 100-degree turn to the south heading toward New York City. A radio transmission comes from Flight 11: "We have some planes. Just stay quiet, and you'll be okay. We are returning to the airport."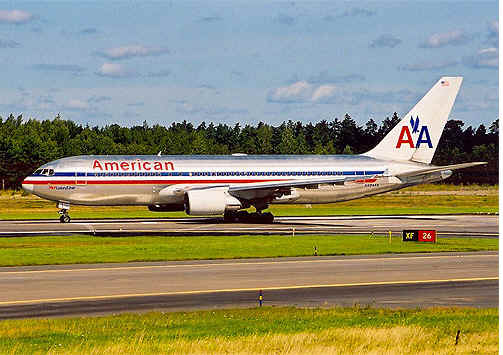 8:25 a.m.: Boston Center flight controllers alert other flight control centers regarding Flight 11; however, NORAD is not yet alerted.

8:34 a.m.: Boston Center contacts Otis Air National Guard Base at Cape Cod, through the FAA's Cape Cod facility, on the hijacking of Flight 11.

8:37 a.m.: Flight 175 confirms sighting of hijacked Flight 11 to flight controllers, 10 miles (16 km) to its south.

8:37:52 a.m.: Boston Center control notifies NEADS (Northeast Air Defense Sector), the northeast sector of NORAD, of the hijacking of Flight 11, the first notification received by the military, at any level, that American 11 had been hijacked. The controller requests military help to intercept the aircraft.

8:42 a.m.: United Airlines Flight 93, a Boeing 757, takes off with 37 passengers and seven crew members from Newark International Airport, bound for San Francisco International Airport, following a 40-minute delay due to congested runways. Four hijackers are aboard. Its flight path initially takes it close to the World Trade Center before moving away westwards.
8:42 a.m.: The FAA's New York Center requests information about Flight 11 over the radio. Flight 175 responds: "Ah, we heard a suspicious transmission on our departure out of Boston, ah, with someone, ah, it sounded like someone keyed the mikes and said ah everyone stay in your seats." New York Center acknowledges and says it will pass the information on. Shortly after, Flight 175 is hijacked and also begins to move southwards.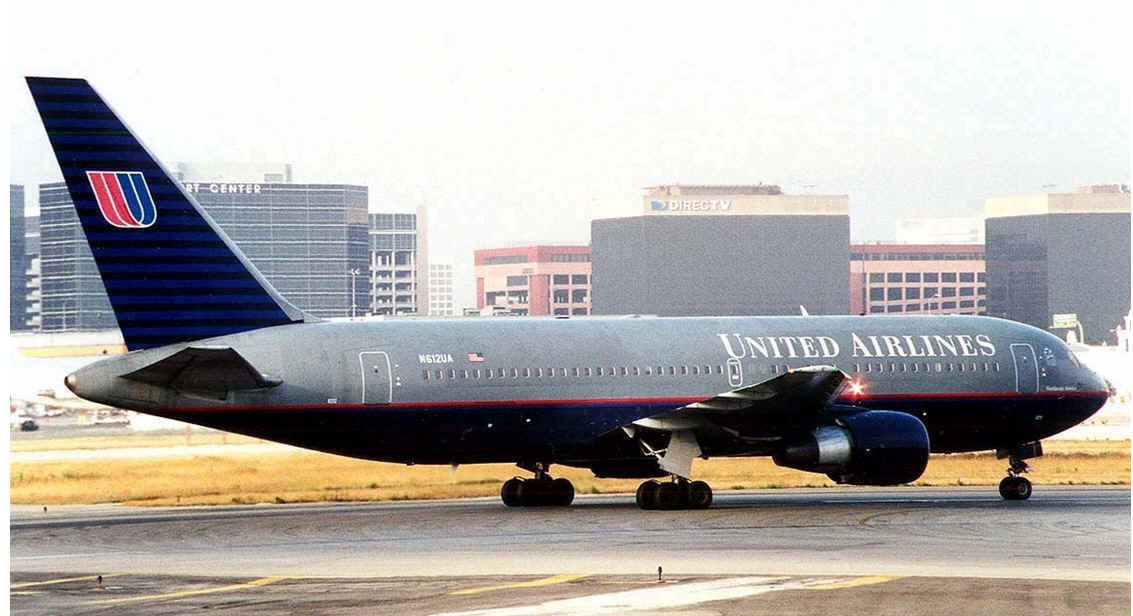 8:44 a.m.: Flight attendant Amy Sweeney, aboard Flight 11, reports by telephone to American Airlines Flight Services Office in Boston, "Something is wrong. We are in a rapid descent . . . we are all over the place." When asked to look out the window, she says, "We are flying low. We are flying very, very low. We are flying way too low." Seconds later she says, "Oh my God we are way too low," before the call ends.

8:46:26 a.m. Flight 11 crashes at roughly 490 mph (790 km/h or 425 knots) into the north side of the North Tower of the World Trade Center, between floors 94 and 98.
8:50 a.m.: NEADS is notified that a plane has struck the World Trade Center as they continue to locate the flight on radar.

8:51 a.m.: A flight controller at the FAA's New York Center notices that Flight 175 had changed its transponder code twice four minutes earlier; he tries to contact the flight.

8:51 to 8:54 a.m. (approx.): Hijacking begins on Flight 77.

8:53 a.m.: The F-15s at Otis Air Force Base are airborne. Still lacking an intercept vector to Flight 11 (and not aware that it has already been crashed), they are sent to military controlled airspace off Long Island and ordered to remain in a holding pattern until between 9:09 and 9:13.
8:54 a.m.: Flight 77 deviates from its assigned course to Los Angeles, turning south over Ohio. Two minutes later, its transponder is turned off.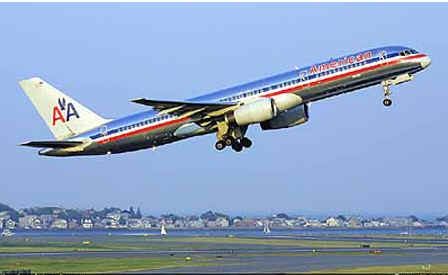 8:55 a.m. (approx.): Announcements are made by officials in the still-undamaged South Tower of the World Trade Center that the building is "secure", and that people may return to their offices, over the building-wide PA system. Some do not hear it; others ignore it and evacuate anyway; others congregate in common areas like the 78th floor sky lobby.
8:55 a.m.: President George W. Bush is at Emma E. Booker Elementary School in Sarasota, Florida, as part of a scheduled visit to promote education and the Bush administration education policies when Presidential Advisor Karl Rove tells him that a small, twin-engine plane had crashed into the World Trade Center. The president speaks to National Security Advisor Condoleezza Rice at the White House; she reports that it was a commercial aircraft.

9:01 to 9:02 a.m.: A manager from the FAA's New York Center tells the Air Traffic Control System Command Center in Herndon, Virginia, "We have several situations going on here. It's escalating big, big time. We need to get the military involved with us. . . . We're, we're involved with something else, we have other aircraft that may have a similar situation going on here."

9:01 a.m.: FAA's New York Center contacts New York terminal approach control and asks for help in locating Flight 175.

9:03:13 a.m.: Flight 175 crashes at about 590 mph (950 km/h) into the south side of the South Tower, banked between floors 78 and 84.
9:03 a.m.: President Bush enters a classroom as part of his visit.

9:03 a.m.: FAA's New York Center notifies NORAD (NEADS) of the hijacking of Flight 175.

9:04 a.m. (approximately): The FAA's Boston Air Route Traffic Control Center stops all departures from airports in its jurisdiction (New England and eastern New York State).

9:06 a.m.: The FAA bans takeoffs of all flights bound to or through the airspace of New York Center from airports in that Center and the three adjacent Centers — Boston, Cleveland, and Washington. This is referred to as a First Tier groundstop and covers the Northeast from North Carolina north and as far west as eastern Michigan.

9:06 a.m.: After brief introductions to the Booker elementary students, President Bush is about to begin reading with the students when Chief of Staff Andrew Card interrupts to whisper to the president, "A second plane hit the other tower, and America's under attack." The president stated later that he decided to continue the lesson rather than alarm the students.
9:08 a.m. : The FAA bans all takeoffs nationwide for flights going to or through New York Center airspace. ABC reports later that the Port Authority of New York and New Jersey, the agency that runs the New York-area airports, asked the FAA for permission to close down the New York Center airspace.

9:13 a.m.: The F-15 fighters from Otis Air Force base leave military airspace near Long Island, bound for Manhattan.

9:15 a.m. (approximately): President Bush leaves the classroom in which he has been reading with students, and enters another, commandeered by the Secret Service. It contains a telephone, a television showing the news coverage, and several senior staff members. The president speaks to Vice President Dick Cheney, Dr. Rice, New York Governor George Pataki, and FBI Director Robert Mueller, and prepares brief remarks

9:17 a.m.: The Federal Aviation Administration shuts down all New York City area airports.

9:21 a.m.: The Port Authority of New York and New Jersey orders all bridges and tunnels in the New York area closed.

9:23 a.m.: Flight 93 receives warning message text from United Airlines flight dispatcher: "Beware any cockpit intrusion- Two a/c [aircraft] hit World Trade Center."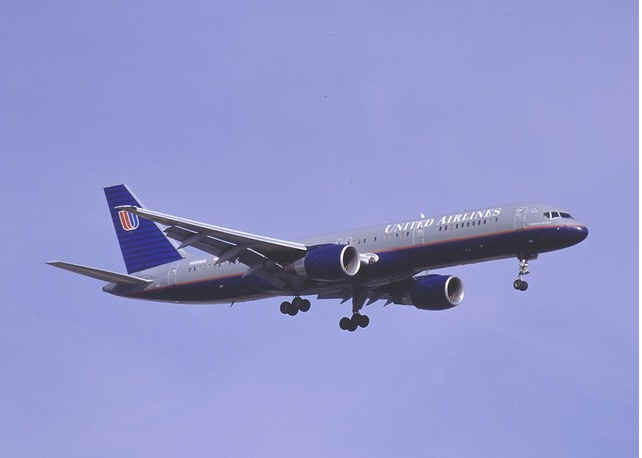 9:24 a.m.: The FAA notifies NORAD's Northeast Air Defense Sector about the suspected hijacking of Flight 77. The FAA and NORAD establish an open line to discuss Flight 77, and shortly thereafter Flight 93.

9:25 a.m. : The Otis-based F-15s establish an air patrol over Manhattan.

9:25 a.m.: A video teleconference begins to be set up in the White House Situation Room, led by Richard A. Clarke, a special assistant to the president, that eventually includes the CIA; the FBI; the departments of State, Justice, and Defense; and the FAA.
9:28 a.m.: Hijackers storm the cockpit on Flight 93 and take over the flight. The entry of the hijackers is overheard by flight controllers at Cleveland.

9:29 a.m.: President Bush makes his first public statements about the attacks, in front of an audience of about 200 teachers and students at the elementary school. He states that he will be going back to Washington, that "we've had a national tragedy", and leads a moment of silence. After the speech, he is bound for Sarasota-Bradenton International Airport and Air Force One.

9:33 to 9:34 a.m.: Tower supervisor at Reagan National Airport tells Secret Service operations center at the White House that "an aircraft [is] coming at you and not talking with us," referring to Flight 77. The White House is about to be evacuated when the tower reports that Flight 77 has turned and is approaching Reagan International Airport.

9:34 a.m.: The FAA's Command Center relays information concerning Flight 93 to FAA headquarters.

9:35 a.m.: Flight 93 reverses direction over Ohio and starts flying eastwards.

9:37a.m.: Based on a report that Flight 77 had turned again and was circling back, Vice President Cheney is evacuated from the White House to an underground tunnel leading to a security bunker.
9:37:46 a.m.: American Airlines Flight 77 crashes into the Pentagon, sending up a huge plume of smoke.The section of the Pentagon hit consists mainly of newly renovated, unoccupied offices. All 64 persons on board are killed, as are 125 Pentagon personnel.
9:43 a.m.: The White House and the Capitol evacuate.

9:45 a.m.: United States airspace is shut down. No civilian aircraft are allowed to take off, and all aircraft in flight are ordered to land at the nearest airport as soon as practical. All international flights headed for the U.S. are redirected to Canada. Transport Canada, the Canadian transportation agency, follows the American lead and closes down their airspace. The FAA announces that civilian flights are suspended until at least noon September 12, while Transport Canada gives similar orders, but until further notice, to take in diverted U.S.-bound international flights, launching the agency's "Operation Yellow Ribbon." The groundings last until September 14. Military and medical flights continue.

9:49 a.m. The FAA Command Center at Herndon suggests that someone at FAA headquarters should decide whether to request military assistance with Flight 93. Ultimately, the FAA makes no request before it crashes

9:57a.m.: Passenger revolt begins on Flight 93.

9:57 a.m.: Bush departs from Florida.

10:03 a.m.: United Airlines Flight 93, also hijacked, crashes in Somerset County, Pennsylvania, southeast of Pittsburgh.

10:03 a.m. (approximately): The National Military Command Center learns from the White House of Flight 93's hijacking.

10:05 a.m.: The south tower of the World Trade Center collapses, plummeting into the streets below. A massive cloud of dust and debris forms and slowly drifts away from the building.
10:08 a.m.: Secret Service agents armed with automatic rifles are deployed into Lafayette Park across from the White House.

10:05 a.m.: NEADS, controlling the only set of fighters over Washington, first learns of the hijacking of Flight 93.

10:08 a.m.: Air Traffic Control System Command Center in Herndon reports to FAA headquarters that Flight 93 may be down near Johnstown, Pennsylvania

10:10 a.m.: A portion of the Pentagon collapses.

10:10 a.m.: NEADS emphatically tells fighter pilots over Washington, "negative clearance to shoot."

10:10 to 10:15 a.m. (approximately): Vice President Cheney, unaware that Flight 93 has crashed, authorizes fighter aircraft to engage the inbound plane, reported to be 80 miles (129 km) from Washington, based not on radar (from which it has disappeared) but speed and trajectory projections.

10:13 a.m.: The United Nations building evacuates, including 4,700 people from the headquarters building and 7,000 total from UNICEF and U.N. development programs.

10:14 to 10:19 a.m.: A lieutenant colonel at the White House repeatedly relays to the NMCC that the Vice President has confirmed that fighters are cleared to engage inbound aircraft if they can verify that the aircraft was hijacked.

10:22 a.m.: In Washington, the State and Justice departments are evacuated, along with the World Bank.

10:24 a.m.: The FAA reports that all inbound transatlantic aircraft flying into the United States are being diverted to Canada.

10:28 a.m.: The World Trade Center's north tower collapses from the top down as if it were being peeled apart, releasing a tremendous cloud of debris and smoke.
10:31a.m.: NORAD first communicates the Vice President's shootdown authority to its NEADS sector.

10:35a.m.: Air Force One, carrying the president, turns for Barksdale Air Force Base in Shreveport, Louisiana.
10:45 a.m.: All federal office buildings in Washington are evacuated.

10.46 a.m.: U.S. Secretary of State Colin Powell cuts short his trip to Latin America to return to the United States.

10.48 a.m.: Police confirm the plane crash in Pennsylvania.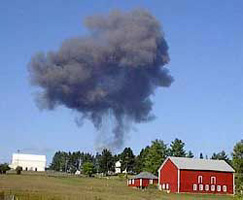 10:53 a.m.: New York's primary elections, scheduled for Tuesday, are postponed.

10:54 a.m.: Israel evacuates all diplomatic missions.

10:57 a.m.: New York Gov. George Pataki says all state government offices are closed.

11:00 a.m.: Transport Canada halts all aircraft departures until further notice, except for police, military, and humanitarian flights,

11:02 a.m.: New York City Mayor Rudolph Giuliani urges New Yorkers to stay at home and orders an evacuation of the area south of Canal Street.
11:18 a.m.: American Airlines reports it has lost two aircraft. American Flight 11, a Boeing 767 flying from Boston to Los Angeles, had 81 passengers and 11 crew aboard. Flight 77, a Boeing 757 en route from Washington's Dulles International Airport to Los Angeles, had 58 passengers and six crew members aboard. Flight 11 slammed into the north tower of the World Trade Center. Flight 77 hit the Pentagon.

11:26 a.m.: United Airlines reports that United Flight 93, en route from Newark, New Jersey, to San Francisco, California, has crashed in Pennsylvania. The airline also says that it is "deeply concerned" about United Flight 175.

11:59 a.m.: United Airlines confirms that Flight 175, from Boston to Los Angeles, has crashed with 56 passengers and nine crew members aboard. It hit the World Trade Center's south tower.

12:04 p.m.: Los Angeles International Airport, the destination of three of the crashed airplanes, is evacuated.

12:15 p.m: San Francisco International Airport is evacuated and shut down. The airport was the destination of United Airlines Flight 93, which crashed in Pennsylvania.

12:15 p.m.: The Immigration and Naturalization Service says U.S. borders with Canada and Mexico are on the highest state of alert, but no decision has been made about closing borders.

12:30 p.m.: The FAA says 50 flights are in U.S. airspace, but none are reporting any problems.

1:00 p.m. (approximately): At the Pentagon, fire crews are still fighting fires. The early response to the attack had been coordinated from the National Military Command Center, but that had to be evacuated when it began to fill with smoke.

1:04 p.m.: President Bush puts the U.S. military on high alert worldwide (known as Threat Condition Delta). Taped remarks from the President were aired from Barksdale Air Force Base, stating that "freedom itself was attacked this morning by a faceless coward and freedom will be defended." He also said that the "United States will hunt down and punish those responsible for these cowardly acts." He then leaves for a US Strategic Command bunker located at Offutt Air Force Base in Bellevue, Nebraska.

1:27 p.m.: A state of emergency is declared by the city of Washington.

1:44 p.m.: The Pentagon says five warships and two aircraft carriers will leave the U.S. Naval Station in Norfolk, Virginia, to protect the East Coast from further attack and to reduce the number of ships in port. The two carriers, the USS George Washington and the USS John F. Kennedy, are headed for the New York coast. The other ships headed to sea are frigates and guided missile destroyers capable of shooting down aircraft.

1:48 p.m.: Bush leaves Barksdale Air Force Base aboard Air Force One and flies to an Air Force base in Nebraska.

2:30 p.m.: The FAA announces there will be no U.S. commercial air traffic until noon EDT Wednesday at the earliest.

2:39 p.m.: At a news conference, Giuliani says that subway and bus service are partially restored in New York City. Asked about the number of people killed, Giuliani says, "I don't think we want to speculate about that -- more than any of us can bear."

2:50 p.m.: President Bush arrives at Offutt Air Force Base, Nebraska to convene a National Security Council teleconference via the US Statcom bunker.
3:55 p.m.: Karen Hughes, a White House counselor, says the president is at an undisclosed location, later revealed to be Offutt Air Force Base in Nebraska, and is conducting a National Security Council meeting by phone. Vice President Dick Cheney and National Security Adviser Condoleezza Rice are in a secure facility at the White House. Defense Secretary Donald Rumsfeld is at the Pentagon.

3:55 p.m.: Giuliani now says the number of critically injured in New York City is up to 200 with 2,100 total injuries reported.

4:10 p.m.: Building 7 of the World Trade Center complex is reported on fire

4:25 p.m.: The American Stock Exchange, the Nasdaq and the New York Stock Exchange say they will remain closed Wednesday.

4:30 p.m.: The president leaves Offutt Air Force Base in Nebraska aboard Air Force One to return to Washington.

5:20 p.m.: The 47-story Building 7 of the World Trade Center complex collapses. The evacuated building is damaged when the twin towers across the street collapse earlier in the day. Other nearby buildings in the area remain ablaze.
6:10 p.m.:Giuliani urges New Yorkers to stay home Wednesday if they can.

6:40 p.m.: Donald Rumsfeld, the U.S. defense secretary, holds a news conference in the Pentagon, noting the building is operational. "It will be in business tomorrow," he says.

6:54 p.m.: Bush arrives back at the White House aboard Marine One and is scheduled to address the nation at 8:30 p.m. The president earlier landed at Andrews Air Force Base in Maryland with a three-fighter jet escort.

7:00 p.m.: Efforts to locate survivors in the rubble that had been the twin towers continue. Fleets of ambulances are lined up to transport the injured to nearby hospitals, but stand empty. 'Ground Zero' is the exclusive domain of New York City's Fire Department and Police Department, despite volunteer steel and construction workers who stand ready to move large quantities of debris quickly. Relatives and friends of victims or likely victims, many displaying enlarged photographs of the missing printed on home computer printers, have appeared around New York.

7:17 p.m.: U.S. Attorney General John Ashcroft says the FBI is setting up a Web site for tips on the attacks: www.ifccfbi.gov. He also says family and friends of possible victims can leave contact information at 800-331-0075.

7:45 p.m.: The New York Police Department says that at least 78 officers are missing. The city also says that as many as half of the first 400 firefighters on the scene were killed.

8:30 p.m.: President Bush addresses the nation, saying "thousands of lives were suddenly ended by evil" and asks for prayers for the families and friends of Tuesday's victims. "These acts shattered steel, but they cannot dent the steel of American resolve," he says. The president says the U.S. government will make no distinction between the terrorists who committed the acts and those who harbor them. He adds that government offices in Washington are reopening for essential personnel Tuesday night and for all workers Wednesday.

9:00 p.m.: President Bush meets his full National Security Council, followed roughly half an hour later by a meeting with a smaller group of key advisers. Bush and his advisers have evidence that Osama bin Laden is behind the attacks. CIA Director Tenet says that al-Qaeda and the Taliban in Afghanistan are essentially one and the same. Bush says, "Tell the Taliban we're finished with them."

9:57 p.m.: Giuliani says New York City schools will be closed Wednesday and no more volunteers are needed for Tuesday evening's rescue efforts. He says there is hope that there are still people alive in rubble. He also says that power is out on the westside of Manhattan and that health department tests show there are no airborne chemical agents about which to worry.