Osama bin Laden Killed
On April 29, 2011, U.S. President Barack Obama authorized a raid on bin Laden's suspected location near Abbottabad, Pakistan. The operation was successfully carried out in the early morning of May 2 by U.S. Navy SEALs with intelligence support from the Central Intelligence Agency (CIA). Toward the end of the raid, bin Laden was fatally shot in the head and chest. The entire raid, including intelligence sweeps of the compound, was completed in less than 40 minutes. His body was taken and facial recognition tests were performed. Later, genetic testing further supported bin Laden's identification. Within 24 hours of his death, Osama bin Laden's body was taken out to sea for burial. The United States military said, the reason for the decision made, to bury Osama bin Laden's body in the sea, was to circumvent international difficulties in choosing a burial site, but other reasons indicate that the move to bury his body at sea, was designed to prevent any physical enshrinement of the terrorist leader.
Years of hunting down the world's most wanted terrorist ended when a CIA-led Navy SEALs squadron of just a few dozen men stormed Osama bin Laden's compound and killed him.
Five aircraft flew from Jalalabad, Afghanistan, two stealth Black Hawks carrying 23 Navy Seals, an interpreter and a sniffer dog named Cairo, and three Chinooks carrying 24 backup soldiers that landed in a remote mountain area north of Abbottabad.
The first Black Hawk swayed erratically as it hovered over the compound owing to higher than expected temperatures and crashed against a wall, irreparably damaging its tail. The heat made the air thinner than the pilot needed to hover over the compound, and he lost control of one of the Black Hawks. The tail rotor swung around and caught the 12-foot wall; the pilot buried the chopper's nose into the dirt to keep it from flipping and the SEALs piled out. The second chopper didn't even attempt to hover and dropped its portion of SEALs outside the gates.
The second chopper didn't even attempt to hover and dropped its portion of SEALs outside the gates.
They made their way inside with explosive charges, which they had to repeat at every level as they made their way up to the the third floor.
Three men and one woman attacked the SEALs and were shot. Children occupied every level, including the veranda of Bin Laden's room.
The three SEALs that reached Bin Laden's private quarters saw the Al Qaeda leader standing at the end of the hallway before he ducked back in his room. Each said they recognized him instantly.
Assuming he was going for a weapon they entered the room after him.
Inside two woman stood before Bin Laden trying to protect him. One SEAL grabbed them and fearing they wore bomb vests, and threw them aside.
A second SEAL opened fire putting one bullet in Bin Laden's chest and one in his head
A Chinook helicopter arrived to collect Bin Laden's body, a trove of computer disks, and the soldiers whose helicopter had crashed. Before leaving the SEALS rigged the first Black Hawk with explosives and destroyed most of it while departing.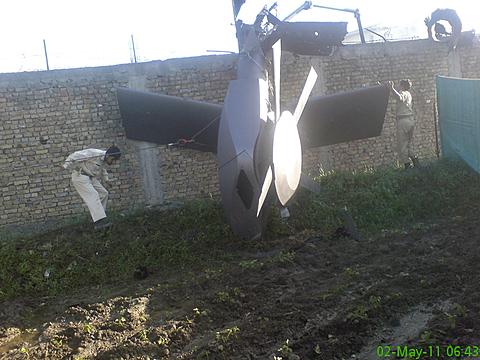 Pakistan has agreed to return the tail of the modified variant of the Sikrosky H -60 Blackhawk helicop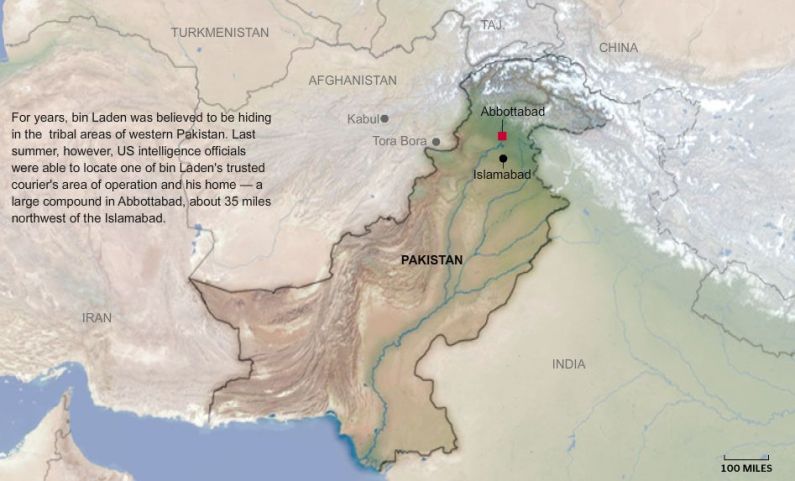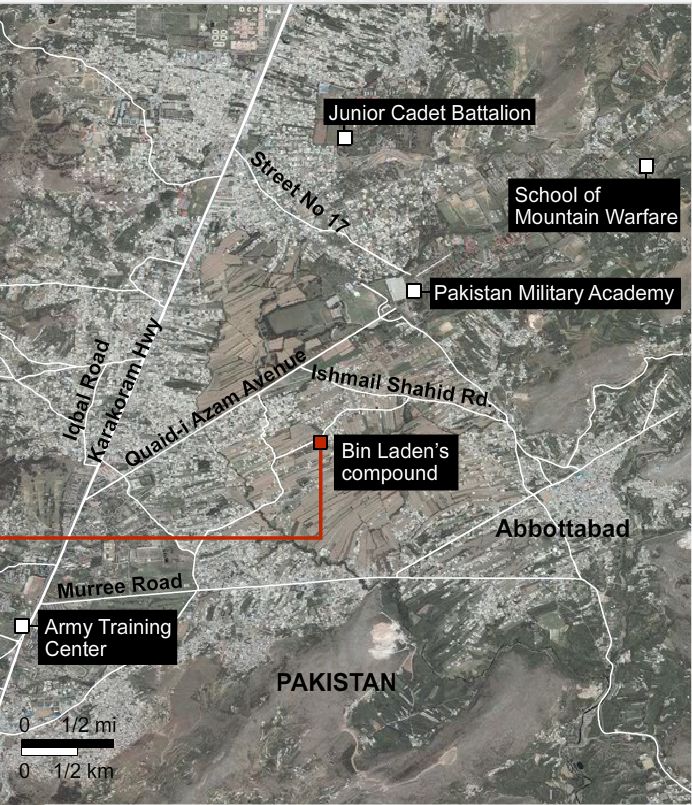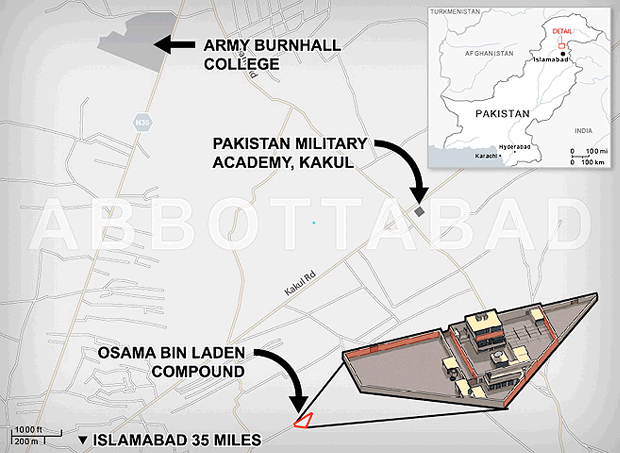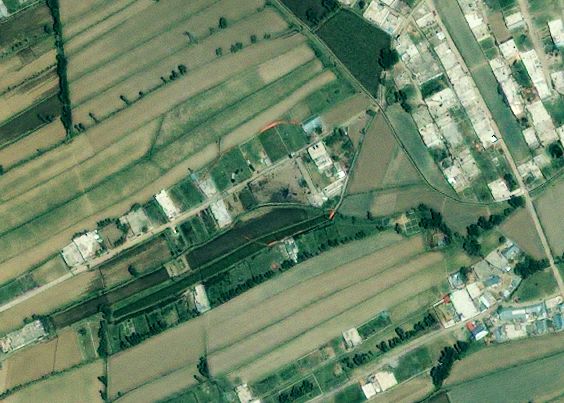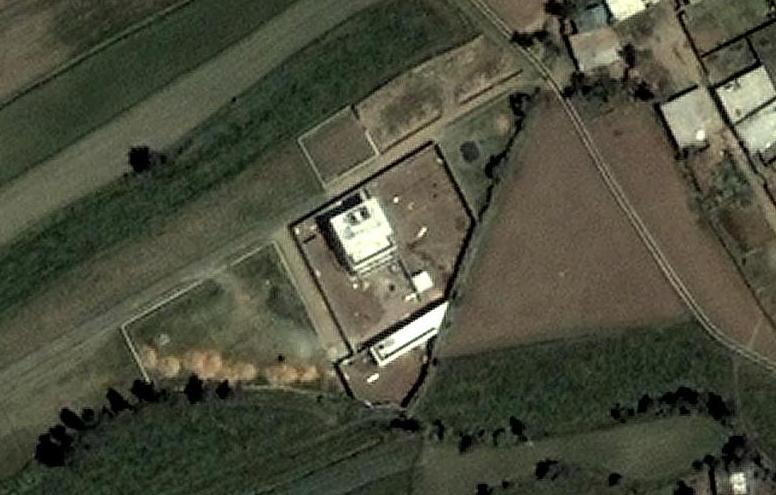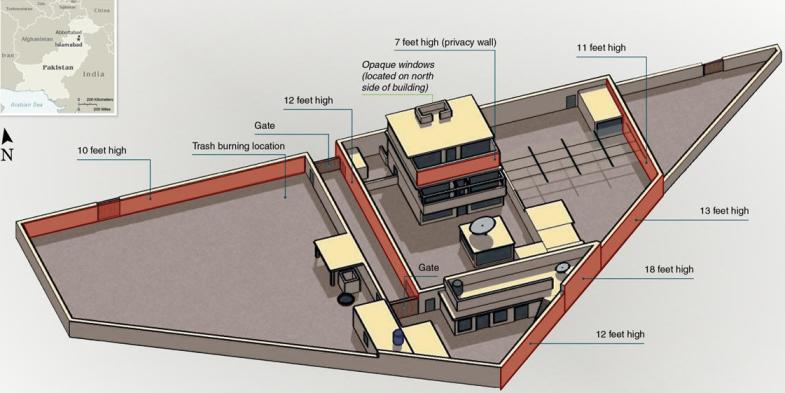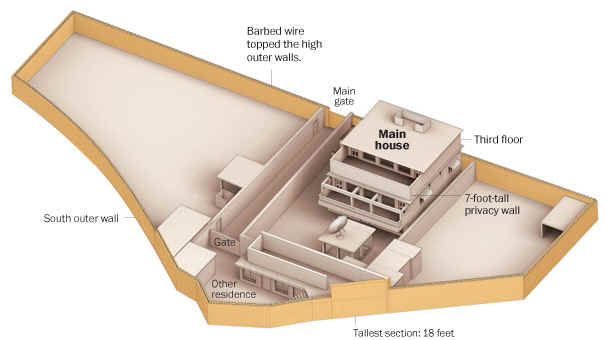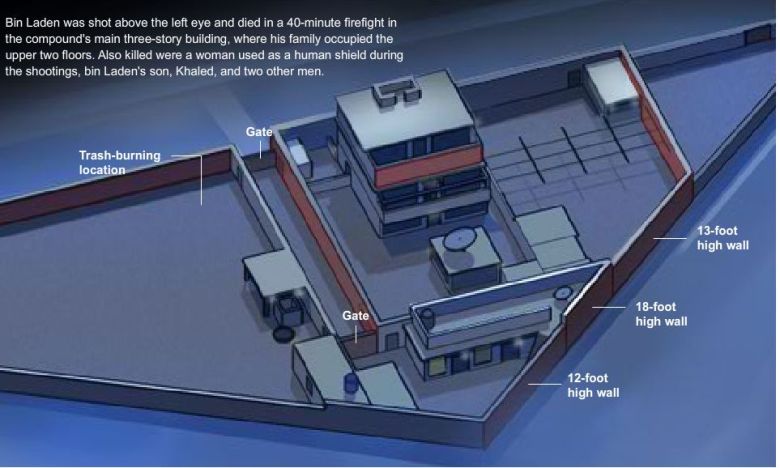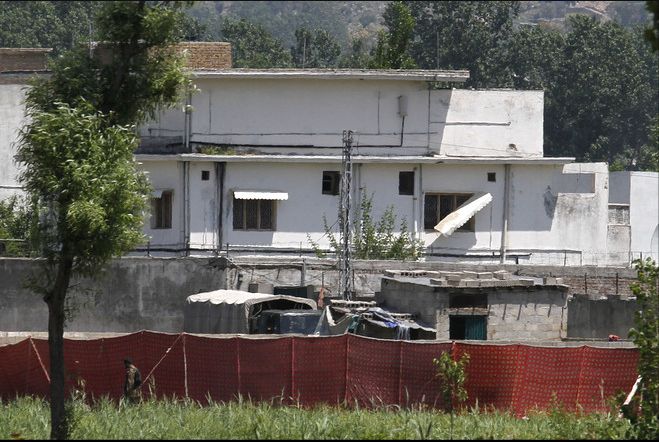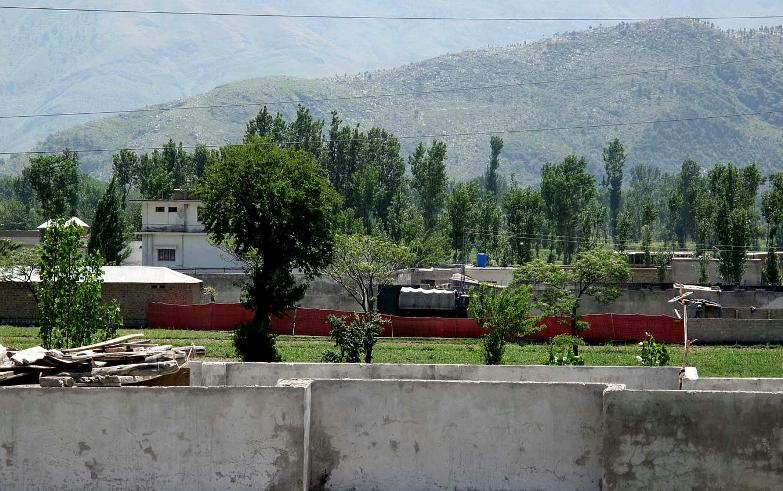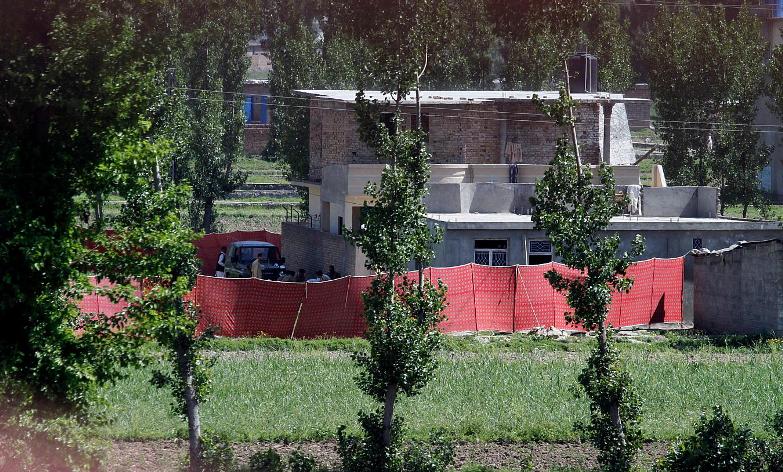 Years of hunting down the world's most wanted terrorist ended when a CIA-led Navy SEALs squadron of just a few dozen men stormed Osama bin Laden's compound and killed him.

The elite team of Navy SEALs tapped for the job were a group who were stationed at Naval Air Station Oceana in Virginia Beach.
The team is part of a counterterrorism group so specialized that no one can apply to join it. The operatives are recruited from existing SEAL teams. They are an elite group within the elite.
The team was formed in response to the 1980 American hostages rescue attempt in Iran, which had been a huge failure and showed the need for a counterterrorist team that could operate under the utmost secrecy.
Today's SEAL (Sea, Air, Land) teams trace their history to the first group of volunteers selected from the Naval Construction Battalions (SeaBees) in the spring of 1943. These volunteers were organized into special teams called Navy Combat Demolition Units (NCDUs). The units were tasked with reconnoitering and clearing beach obstacles for troops going ashore during amphibious landings, and evolved into Combat Swimmer Reconnaissance Units.

The NCDUs distinguished themselves during World War II in both the Atlantic and Pacific theaters. In 1947, the Navy organized its first underwater offensive strike units. During the Korean Conflict, these Underwater Demolition Teams (UDTs) took part in the landing at Inchon as well as other missions including demolition raids on bridges and tunnels accessible from the water. They also conducted limited minesweeping operations in harbors and rivers.

During the 1960s, each branch of the armed forces formed its own counterinsurgency force. The Navy utilized UDT personnel to form separate units called SEAL teams. January 1962 marked the commissioning of SEAL Team ONE in the Pacific Fleet and SEAL Team TWO in the Atlantic Fleet. These teams were developed to conduct unconventional warfare, counter-guerilla warfare and clandestine operations in both blue and brown water environments.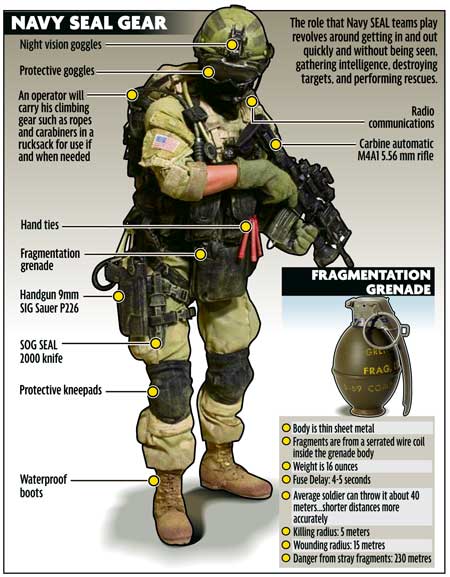 Concurrently, Naval Operations Support Groups were formed to aid UDTs, SEALs, and two other unique units — Boat Support and Beach Jumpers — in administration, planning, research, and development. During the Vietnam War, UDTs performed reconnaissance missions and SEALs carried out numerous offensive operations. In 1967, the Naval Operations Support Groups were renamed Naval Special Warfare Groups (NSWGs) as involvement increased in limited conflicts and special operations.


In 1983, existing UDTs were redesignated as SEAL teams and/or SEAL Delivery Vehicle Teams and the requirement for hydrographic reconnaissance and underwater demolition became SEAL missions.

The Naval Special Warfare Command was commissioned April 16, 1987, at the Naval Amphibious Base, Coronado, Calif. Its mission is to prepare Naval Special Warfare forces to carry out their assigned missions and to develop special operations strategy, doctrine, and tactics.

SEALs (Sea, Air, Land) teams go through what is considered by some to be the toughest military training in the world. Basic Underwater Demolition/ SEAL (BUD/S) training is conducted at the Naval Special Warfare Center in Coronado. Students encounter obstacles that develop and test their stamina, leadership and ability to work as a team.
The 160th Special Operations Aviation Regiment (SOAR) — the Night Stalker helicopter pilots transported the Navy SEALs to Osama bin Laden's compound.

Since the devastating attack on our nation Sept. 11, 2001, the 160th SOAR(A) has been continuously and actively engaged in combat operations. Night Stalkers first deployed in support of the War on Terror in October 2001, for Operation Enduring Freedom Afghanistan, with a short period supporting OEF-Philippines. In spring 2003, the 160th deployed its first assets supporting Operation Iraqi Freedom. As the organization continued maturing to meet the nation's special operations aviation requirements, the Regiment stood up a fourth assault battalion, 4th Bn., 160th, at Fort Lewis, Wa., in December 2005. Following the deactivation of E Co., 160th, on July 31, 2007, the USPACOM area of responsibility was handed over to 4th Bn., which was formally activated in December 2007. On April 24, 2008, D Co., 160th, was officially deactivated with 3 Bn. assuming the responsibility of the USSOUTHCOM area of operations. Today, the Regiment maintains a sustained forward presence in both Afghanistan and Iraq, while simultaneously providing increased training support to USPACOM, an in-extremis force for USSOUTHCOM, and maintaining a national mission alert force.
UH-60M BLACK HAWK Helicopter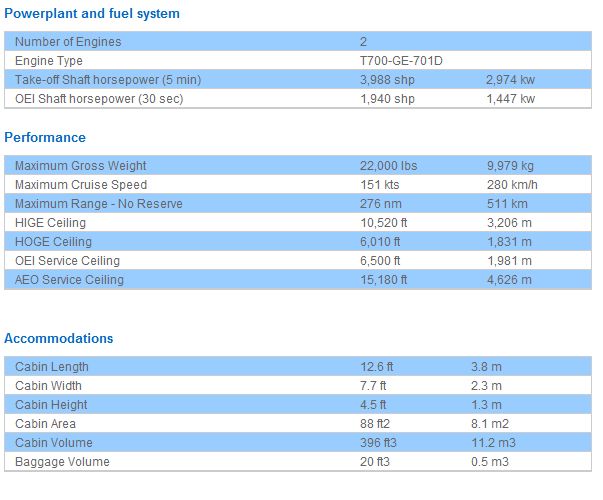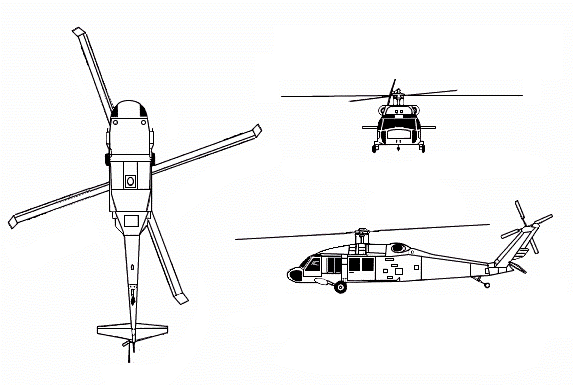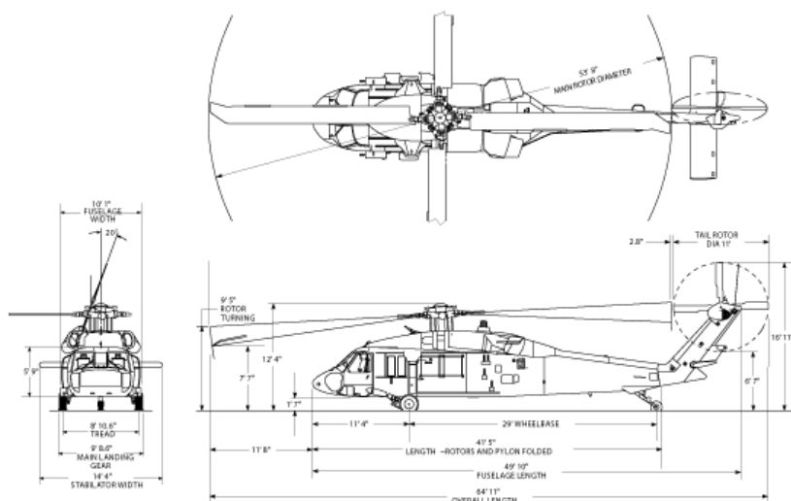 Credit:CIA, US Navy